Juerui Industry as ambassador of the Spanish gastronomic and wine culture in China, is also keen on the representation of Spanish sparkling wine regions.
Juerui Industry sparkling wine catalogue, includes cavas and sparkling wines from different regions and multiple grape varieties.
Let's see them in deep!
Starting in Penedes, the land of Cava, we have Gramona Wineries! One of the most reputed wineries for aged sparkling wines around the world.
Gramona family started doing mass market sparkling wines in 1850, but it was in 1951 when they realized their sparkling wines were even better, with some time aging in the barrels.
How did this happen?
Before World War II and the Spanish Civil War, Gramona family had harvest the grapes, and put them in barrels to start the maceration process, but due to the war, the sales obviously stopped and the leaders of Gramona thought the safest way to go through this hard times was to leave the future wines in the barrels and then see.
A few years later, the great surprise came! When they removed the wines from the barrels and bottled them, they had an even better product than in previous times, and this is how III Lustros and Celler Batlle were born.
From there, they started working on aged sparkling wines and become more and more worried about the environment and moved on to making biodynamic aged sparkling wines.
Their most iconic sparkling wines are III Lustros aged 70 months, Celler Battle aged over 100 months, Imperial Brut aged 60 months, la Cuvée aged 30 months and Gramona Rosat Brut, the family´s Rosé aged 30 months.
Our cava comes also from the Penedés region in Catalonia, it comes from a family owned winery called Giró Ribot. The cava is devoted to Paul Cheneau and is called Cava Paul Cheneau Brut Fresh Llife.
Contrary to Gramona sparkling wines, this cava is a young cava with the category of Brut. Brut is one of the less sugary options of cava and it is perfect to pair with Asian or slightly spicy food.
Cava Paul Cheneau Brut Fresh Life is made with the utmost winemaking techniques and the greatest care. In particular, the coupage wine obtained undergoes a second fermentation in the bottle according to the traditional "Méthode Champenoise".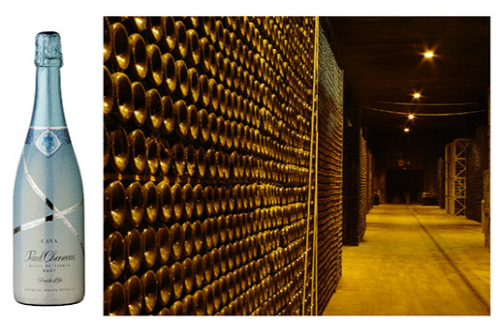 Following our aim to showcase all the Spanish wine regions, we also have a very special sparkling wine made in Aragon: Cava Particular. This cava is a very special cava made 100% of Garnacha grapes.
Particular Winery from San Valero Group is a winery that gets back the traditional ways of making. Inspired in simple graphologies done by hand, carried out by the viticulturists themselves to distinguish the different wine varieties and its vintages.
Particular winery likes to make wines that tell stories, to share beautiful moments with friends and family and this is reflected in their cavas, they are attractive pale-yellow color with a shiny and bright steely border. Fine bubbles and well integrated and a feeling of delicate red fruits aromas.
Our last stop in the sparkling wine journey, will be in the center of Spain, where we find one of our strongest wineries: Bodegas Yllera, they have been making wine for 6 generations, and are masters in red and sparkling wines.
Jesus and Pepe Yllera were absolute lovers of the Verdejo grape and in 1970 the founders of the winery moved to Rueda to start their project on making wines with that grape. Soon their first project was out and they named it Cantosan. Since then, the iconic sparkling wine Cantosan has been sharing moments and building memories in uncountable people's lives and is now in China brought to you by Juerui Industry to expand this Spanish traditional culture of gathering around a cold Cantosan bottle.
Hope you enjoyed this little glance to our sparkling wines! See you next month.