Penedés, Rueda, Albariño and Verdejo, Spain is a wine lover's paradise.
Spain has over 1.2 million hectares (2.9 million acres) planted in wine grapes, making it the second largest producer of wine in the world, behind Italy and ahead of France and the United States.
One of the best aspects of this country's wine culture is its diversity. There are dozens of winemaking regions, and hundreds of types of Spanish wine grapes. Each part of the country has its own iconic varieties, which means you'll never run out of Spanish wines to try.
Today, we´ll have a look at it through our brands!
We´ll start in Catalunya. Catalunya is land to beach, mountains, gastronomy and architecture and home to some amazing wine regions such as Penedés and Conca de Barberá.
From Conca de Barberá, almost the eastest point of Spain, we bring to you the wines of Cara Nord. Cara Nord is a small winery born 12 years ago from the experience of three amazing men. The vineyards are seating in the north face of Prades Mountains and exposed to extreme contrasts in temperature, healthy air, energizing and positive vibes and all this is reflected in their wines.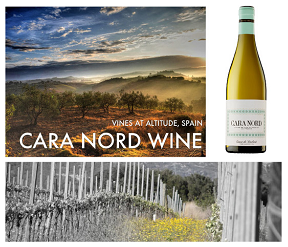 Moving to the center of Catalunya, closer to the city of Barcelona is the wine region of Penedes. From there we represent one of their most iconic wineries: Gramona.
Gramona is a boutique winery specialized in organic and biodynamic wines, from which we have selected two masterpieces: Gessamí and Savinat.
Gessami is a floral wine, made of the mix of four grapes (Muscat of Frontignan, Muscat of Alexandria, Sauvignon Blanc and Gewürztraminer), floral aroma is dominated by the jasmine that gives its name to the wine but very subtile, fresh fruit and a hint of citrus gives the wine an inimitable perfume and make it the perfect companion for the sweeter moments of life.
Savinat is a gem. It is a wine 100% sauvignon blanc grape grown according to biodynamic principles. Additionally, the grapes used are grown in two different locations, one facing south east and the other facing north, which gives the one an amazing terroir feeling and complexity.
Travelling towards the west, in the center north of Spain, we would arrive to Navarra, where we find our winery Castillo de Monjardin, from which we bring the Chardonnay. Castillo de Monjardin is a Spanish winery expert in using French tradition and produces this 100% chardonnay young wine. It is an unoaked wine, with high fruit concentration followed by a crisp and lively acidity, basically representing the full expression of Chardonnay.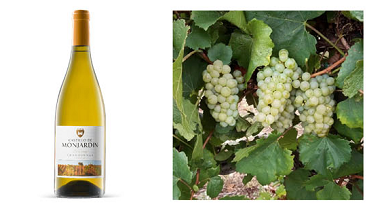 In the west corner of the country, in the Northern Atlantic Coast, very close to Portugal, in Rias Baixas we spotted the winery Adegas Galegas, from where we bring our amazing Albariño wine: Don Pedro Soutomaior. Albariño is a thick-skinned grape varietal originating from that region.
Albariño wine characteristics highlight the crispiness and freshness of the flavors. The variety shows high acidity and a fine texture with citrus, stone fruit, and mineral elements that pair phenomenally with Spanish and Mediterranean seafood dishes.
Moving to the center of Spain we find Bodegas Yllera, one of our most represented wineries. Yllera Winery started their operation in 1970 producing Verdejo grape white wine and has not stopped growing since then. 6 generations later, they keep their essence producing Yllera Verdejo Vendimia Nocturna and Yllera Sauvignon Blanc, made with sauvignon blanc grapes.
There are times in life, where the only thing we wish is to savor the moment and create memories that will remain etched in our memory and which we will later recall with a happy smile.
Spanish wines will bring you amazing moments and help you build memories that will last forever.